We are introducing a new brand to CORE that we are so excited about!
Erin was recently visiting her sister in Santa Barbara, CA, when she saw the LOVE Stash It Tote out shopping and instantly new they would be a great product for our store! When we emailed the rep from LOVE Bags to begin a new account, we discovered she is also a BASI Certified Pilates Instructor, which we thought was an awesome coincidence!
LOVE Bags are all made out of recycled materials! We will now be carrying the Stash It Tote, Trio Tote, Boardwalk Big Tote, Snack Pouch Set, and the Beach Time Cooler!
Stash It Reusable Tote
This is the perfect bag for shopping or carrying around any belongings. It is machine washable, holds up to 35 lbs, has a wide comfort strap that is durable and anti-slip. The coolest thing about these bags is they compact into a smaller bag, so you can literally "stash" them wherever you want! Available in the above styles! (all images via the LOVE Bag website.)
Trio Tote
The Trio Tote is perfect for larger shopping trips, a gym bag, a beach tote, an overnight bag, whatever you can think of! It is larger (16"H x 18"W x 9"D) and has three outer pockets. Right now we are only carrying the above style, but hope to get more patterns in soon! (all images via the LOVE Bag website.)
Boardwalk Big Tote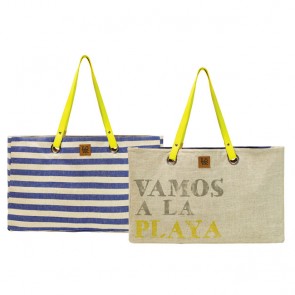 This is the perfect beach tote! It is a large (15" H x 19.5" W x 6" D) and reversible, made out of canvas! This bag is available in the above style. Vamos a la playa! (all images via the LOVE Bag website.)
Snack Pouch Set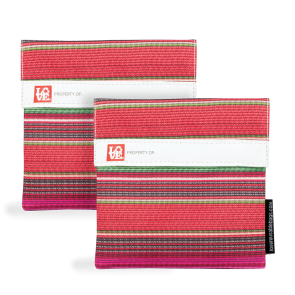 This little velcro pouch is perfect for snacks, jewelry and anything small! We love it for storing socks at the studio!! They are sold in set of 2. (6" x 6") (all images via the LOVE Bag website.)
Beach Time Cooler
This is our FAVORITE!! The top part is a tote and the bottom part unzips to be a cooler and can keep items hot or cold!!! We love this item for the beach, lake, pool or even taking to park for a picnic. It is a great size and comes in the above patterns (15"H x 16.5"W x 7"D).
Come check out all of the new bags at CORE today! We hope to see you soon!